Primordial General Mayhem - Main Event
KK's Steel Mill, Wolverhampton.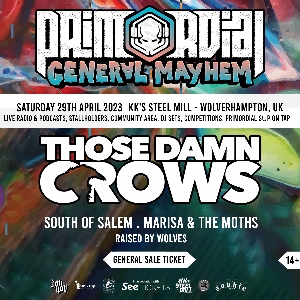 If you would like to access cheaper tickets don't hesitate to Join the Primordial Team at https://primordialradio.com/ where you can enjoy 10% of this event and countless hours of fun, excitement and more importantly music!
More information about Primordial General Mayhem - Main Event tickets
Primordial Radio is hugely excited to announce the details and first bands for the Primordial General Mayhem 2023 with Modern Rock's unstoppable force Those Damn Crows confirmed as the main event headliners on Saturday 29th April 2023.
Now with a new home, the Primordial General Mayhem will be taking place at the illustrious KK's Steel Mill in Wolverhampton on Saturday 29th April 2023, with an additional intimate 200 cap pre-party also planned for Friday 28th April 2023.
Modern Rock's unstoppable force Those Damn Crows have been confirmed as headliners for Saturday 29th April 2023.
In between performing on the main stage at Download Festival 2022, selling out headline shows at the likes of Cardiff Castle, and playing German TV channel WDR's prestigious Rockpalast Crossroads festival, Those Damn Crows recorded 'Inhale/Exhale', an album that elevates their signature hard-hitting rock to dizzying heights
The Welsh quintet sadly had to pull out of headlining PGM 22 earlier this year due to vocalist Shane Greenhall injuring his back, this is very much unfinished business, and we can't wait for the guys to finally take to the stage and deliver what we know will be a humungous headline set.

Confirmed for the main stage on Saturday 29th April 2023 is hard rock/metallers South Of Salem who return after an incredible PGM set in 2021. One of the hottest unsigned rock acts in the UK right now, Marisa & The Moths will also be appearing, their debut self-titled LP hit #66 in the Official Downloads Chart and has amassed hundreds of thousands of streams globally.
Performing on the Primordial Presents Stage on Saturday 29th April 2023 is Nu-Grunge outfit Raised By Wolves, who recently topped the Primordial Up-Vote Chart getting to No.1 with their single "Ringing". There is also six more bands still to be announced for the Saturday Main Event.
Appearing on the Friday night 200 cap pre-party will be headliners Scruffy Bear, who stepped in last minute at the PGM in 2022 for a momentous and memorable set, they'll be joined on the night by three more bands to be announced.

Tickets on sale now.