Primordial General Mayhem
Lincolnshire Showground, Lincoln.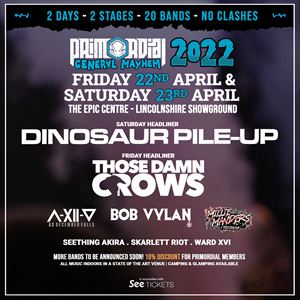 Under 16s must be accompanied by an adult. We cannot issue refunds to under 16s who are not accompanied by an adult.
More information about Primordial General Mayhem tickets
Primordial Radio, the UK's premier Rock & Metal station, has announced eight new bands for the Primordial General Mayhem 2022, including headliners DINOSAUR PILE-UP & THOSE DAMN CROWS with BOB VYLAN, AS DECEMBER FALLS, MILLIE MANDERS & THE SHUTUP, SEETHING AKIRA, SKARLETT RIOT and WARD XVI also joining the bill.
Still riding high from the release of their fourth album Celebrity Mansions, alongside performances at Download Festival and huge a US tour with Shinedown. DINOSAUR PILE-UP have continued to win over audiences around the world and are set to deliver a blistering headline set (Saturday) at the Primordial General Mayhem taking place on Friday 22nd and Saturday 23rd April 2022 at the Lincolnshire Showgrounds.
Headlining the Friday night will be THOSE DAMN CROWS who are set to become the next outfit to follow in the footsteps of world-renowned rock bands with their album 'Point Of No Return' crashing into the UK national chart at #14 on its original release in February 2020 amidst broad praise from both fans and critics.
In addition to these incredible headliners, Primordial Radio is delighted to announce several new additions to the line-up, including London grime punks BOB VYLAN who recently completed a sold-out headline tour across the UK, rising Nottingham-based rock quartet AS DECEMBER FALLS, and Primordial Radio's No.1 most Up-Voted artist of 2020 MILLIE MANDERS & THE SHUTUP.
Genre crossover innovators SEETHING AKIRA will also be joining the bill, alongside UK melodic metallers SKARLETT RIOT and theatrical performers WARD XVI.
Primordial Radio's Music Director, Pete Bailey – "Holy s**t! Who would thought six months ago when we didn't even know if shows would be happening again, we would now be announcing such a ridiculously stacked bill for the Primordial General Mayhem 2022. We always knew that 2021 would be difficult to top, particularly after Covid making us wait over two years for it to happen, but with the bands we're announcing today and more to come, we're just getting started. See you in April!"
Starting in 2018 as a 1-day event with just 3 bands to expanding in 2019, and then nothing in 2020 (Thanks Covid) to selling out with headliners Skindred in 2021… It's been quite the ride to get to this point. 2022 will see the Primordial General Mayhem expanding to 2 days, with 20 bands across 2 stages and no clashes.
Situated inside a state-of-the-art venue at the Lincolnshire Showgrounds inside The Epic Centre, the Primordial General Mayhem offers gig-goers from the rock & metal community a chance to experience the exhilaration of an intimate indoor gig alongside the fun and atmosphere of a festival. With all music taking place indoors but with camping and glamping available, this is the best of both worlds!
The Primordial General Mayhem takes place on Friday 22nd and Saturday 23rd April 2022 at the Lincolnshire Showgrounds inside The Epic Centre.
Tickets are on sale now via See Tickets. Primordial Members receive a 10% discount, if you're not a member you can grab a 30-day free trial (No Credit Card Needed, No Auto Renewal) here - https://bit.ly/3n36YoH